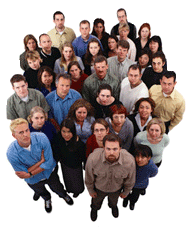 Situations happen daily-even hourly-in business in which employees at all levels must make choices. Making the wrong choice or decision or ignoring the situation and not making one can lead to disaster over time for your company.
According to Gallop, disengagement costs companies $550-600 billion annually. Do your employees know how to see the big picture and make the best choice possible that is good for not only them, but also your company & customers?
To reduce disengagement and enjoy more productivity in diverse working groups, increased job satisfaction and employee retention, better choices and decisions need to be made. To learn how, call Aneta at 949-378-4126
or click here to contact her for a free consultation.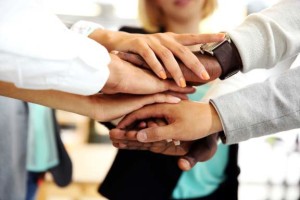 The benefits to your employees who attend a workshop:
Having a process that all can use vs. various processes for various levels.
Increased respectfulness amongst fellow employees.
Greater job satisfaction and engagement from employees.
Higher customer loyalty thus greater profits for your company.
What your employees will learn:
How to visualize each situation before making a choice.
How to make better choices and decisions consistently and transparently.
The three simple steps of providing customized service.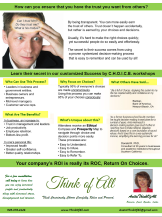 Who are the target audience groups and what kind of workshops are available for them?
For executives and small/mid-size business owners: Full-day workshop
For mid-level managers: Half-day workshop
For new employees or those who deal directly with customers and clients: Two-hour 'Lunch & Learn' or half-day workshops.
In each workshop, they will learn how to align employees' choices and actions directly with your groups' goals and your company's overarching mission.
Call 949-378-4126 or click here to contact Aneta by email for a free consultation so she can help you and your group learn how to make wise choices and decisions that will benefit you, others, and society as a whole.
"As a former part-time business school faculty member, I've taught decision-making to executives for a number of years. Aneta's decision-making system goes much further in teaching executives (and non-executives) how to make rational, objective decisions based on a core foundation of sound values. And it does this in a very systematic manner, simplifying the learning process for all."
Dr. D McCrea, PhD-level consultant of 20 years to businesses and academic institutions throughout Southern California.
"I have applied Aneta's decision-making system to different aspects of my life and have found it to be very beneficial. As a banker, her system has clear applications in creating strategies that can be applied to any level of business. As an individual, it has assisted me in deciding on investment strategies and planning for higher education. Both applications are possible because Aneta's system creates a clear and thorough thought processes. Life is full of choices that shape our environment. Applying this system to my life has provided clarity, efficiency, and confidence in my decisions."
Banker, Bank of America, Newport Beach, CA
"Aneta, thank you for such a wonderful teleconference! Your approach truly takes into account all learning styles to ensure that it is understood and used effectively. Your unique graphics help me as a daily visual reminder learn how to pause and make choices that will lead to the best outcome for me and others. Your decision-making process is essential to well-run teams and corporations who desire sustained success!"
Indi Avila, Ed.M. Creator of the Attraction Agenda & Founder of The Positive People
"I have worked with the government for 24 years and, as a top-level supervisor now, I know that if what you've taught our department were used by all of the other departments in our nationwide (government) agency, EVERYONE would benefit from using your process! Thanks a million."
Top-level Government Supervisor (requested anonymity)