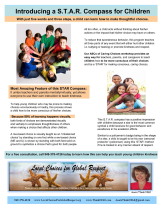 While children typically learn various character traits from either their parents at home or their teacher in a classroom, many of the choices they make i.e. playing with other children are made away from their learning environment.
For that reason, this program provides a visual tool to help children remember what they were taught-wherever they are-when they're making a choice.
This S.T.A.R. compass is a tangible product of our 'ABCs of Caring Choices' program which provides teachers and parents of young children (K-5) with a simple way to teach youngsters how to make kind and respectful choices that can be used as a supplement to any existing character ed training program.
Why is Making Good Choices Important?
Kindness and fairness are important traits for children to learn; however, they are of value only if they are demonstrated at the time a choice is made.
Because 95% of everyone's choices are made unconsciously, this program first provides an easy way for children to be more aware of their choice when they are actually making a choice.
Then, it introduces an easy way to make 'balanced' choices that are considerate of other children affected by a child's choice.
What are the Benefits of Using the Steps of This Program?
1. Increased awareness of the choices a child makes and the impact each choice has on others.
2. Increased respect for other youngsters by, proactively, considering them before making a choice.
3. Parents and teachers can easily use these 'caring compasses' as a tool to reinforce their preferred way of teaching thoughtfulness to their youngsters.
What's Unique About This Program?
Harvard studies prove that children recall wisdom eight times faster if they can see it visually vs recall it from memory. For this reason, each child receives a caring compass as a touchstone that visually reminds him of the steps.
The core components of this process are based on the findings of a Nobel Peace Prize winner, Harvard studies, as well as brain-compatible learning techniques, and universal truths; then, simplified so every child can understand the steps.
What are the Objectives of this Program?
The short-term objective is to educate students on how to be more aware of the choices they make and the impact of them on others.
Usage of this easy-to-use process provides a way for teachers across schools to have a common way and measurement of kind vs unkind choices while allowing each teacher to use his/her own specific method of teaching kindness.
The mid-term objective is to increase respectfulness for one another that, in turn reduces selfish choices made that cause harm to other students e.g. bullying.
The long-term objective is for children to apply this process in all their choices throughout their life so that s/he is doing his/her part to promote respectfulness regardless of what ethnic group he/she is a part of or wherever s/he is living in our world. Given the diversity on our neighborhoods nowadays, the universality of this supplement to existing character education programs is priceless.
How can I Bring This to My Students or My Children?
Call Aneta ThinkOfAll today at 949-378-4126 to learn how you can use this when teaching your children or students kindness and respectfulness. In closing, thank you for everything you do – day in and day out – to help increase respectfulness and decrease disrespectfulness. I look forward to helping you do so soon.