While most of us are enjoying life with its normal ups and down, there are thousands of people worldwide who aren't…..because, unfortunately, one of their loved ones has been killed this year due to someone else's choice. While it's easier to forget about tragedies that happen to people you don't know, I hope you will read on.
Whether a person is killed or massively injured by a large-scale tragedy like the terrorist attacks in Paris or by an individual crime, it's heartbreaking every time for the victim's families. Not only because another innocent person has been killed, but because of how many people are involved in the hateful protests that swell up afterwards. Sadly, people are fighting law enforcement officers who are SUPPOSED to be the ones working to keep us safe. Not so in many places like NYC, Baltimore, Ferguson, Missouri, and most recently Chicago.
Connecting the Dots between the News and You and Why
First, think of a crime that caused harm to someone. Wouldn't you agree any crime is caused by the criminal's internal choice? For example, it's not the gunman or even the gun itself that causes gun-related crimes, but rather the gunman's choice to advance his thoughts forward into action that kills someone.
Second, think of a time when you personally were treated in a disrespectful way. How did you feel? First shocked? Mad? Possibly even betrayed by the one who 'did it' if it was someone you knew? Many times, angry people do what they want to do without regard to other people; then innocent people are hurt or killed.
Although it may be 1,000% justified for the protesters to fight, reactive actions aren't working to stop the killings nor are they thee only way.  So…..are you open to exploring a proactive, more self-empowering method to help prevent killings? I hope you are.
Please read the info below about my work to provide a way for people to unite by each of us simply doing our own part….by 'Starting with our Heart' to make respectful choices. After you've read through the information below, please contact me to explore how we can work together as a virtual TEAM to promote respectfulness around 'our' world by our daily choices.
Introducing the two purposes of Local Choices for Global Respect
First, the *local* half of my non-profit is to provide workshops to low-income parents and teenagers so they can learn an easy-to-use way to be respectful to others by the choices they make. They learn an easy way to see the big picture when making a choice so they 'do no harm'

Second, the *global* half of Local Choices for Global Respect's work is to provide a virtual community via our CAREolution. In it, good-hearted people of all nationalities can be united mentally while you and I and all of us continue on with our own life physically where we live, whatever we do, wherever we go…. by, simply, committing to 'think of all' when we make a choice so we 'do no harm' but, instead, create compassion and strive to 'Be the Change You Want to See in 'our' World! Sounds good?

So what IS a 'CAREolution?
In contrast to a revolution in which groups revolt against one another in an ego-driven destructive manner, our 'Think Of All CAREolution' promotes respectfulness by everyone's spirit-inspired, uplifting choices. You can help promote respectfulness in an easy as well as united way through your participation in our 'CAREolution'
How Can You Participate in our CAREolution?
By starting in your neighborhood. By making respectful choices to someone you might otherwise not do so. By helping someone… just like the one sea star is helping the other sea star at the top of this page. It's amazing the ripple effect you start when you 'live from your heart' and dare to show you care by the choices you make.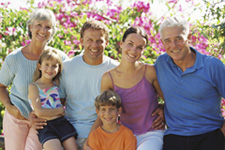 Consider the choices you make today as planting virtual seeds....from which you'll reap rewards in the future. It's called the Law of Karma or the Law of Reciprocity – What Goes Around, Comes Around! Given all the differences in our diverse communities, please join us and become a part of our global community of creating more respectfulness worldwide. It's easy and rewarding.
Your Personal Invitation to Join Our CAREolution
To learn how you can be a part of our CAREolution, call me at 949-378-4126 or send an email to me via the 'Contact' tab above. I look forward to sharing with you the great feeling of making respectful choices, the benefits of self-empowerment and planting 'seeds' of kindness, empathy and compassion…and being a part of our growing global community.
Alone, we can do so little; together, we can do so much by simply 'thinking of all' when each of us makes a choice
Aneta ThinkOfAll