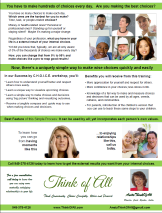 Kids or no kids, adults have many choices to make every day.
Are you making the right ones that are best for you now and later?
Do you feel overwhelmed or confused when you have so many options to consider? Are you getting suggestions from family, friends, your boss, co-workers, social media, advertisements, from 'all over the place'?
How do you sort out the pieces of the puzzle? By using an easy process taught in my Ethical Prosperity by C.H.O.I.C.E. workshops, you will learn how to organize your thoughts, options, considerations so you can make the best choices and decisions possible easily and confidently.
In my customized, highly-interactive workshops, you will learn:
A visual linkage between your thoughts, choices, and results.
A unique way to visualize upcoming choices and decisions.
How you can go from being aware of 5% of your choices to 95%.
How to manage ego-oriented thoughts and your 'angel' thoughts.
A very simple and easy-to-remember way to make choices and decisions that combines what's natural with what's necessary.
How to communicate your requests transparently so that you earn the trust from others you want in your relationships.
You'll receive a tangible 'Ethical Compass' and a 'Prosperity Map' that you can use when you make a choice or decision for the rest of your life.
Call Aneta today or click here to contact her about a free consultation.
"Aneta, your techniques are really great and easy-to-understand. I learned so much about how to make better choices."                                                                                                                – Harold L, Huntington Beach, CA
From the attendees of a four-week workshop, here's are some of the comments received about the workshop:
"Everything! but especially your easy-to-use techniques!"
"The interactive discussions and application of your techniques"
"Aneta's enthusiasm! Keep up the good work"
"Great Job! Don't change anything about your teachings"
".I loved learning how to be more aware that my choices affect – and create – my life"
"The interactive discussions were great!"
"Aneta's class was so positive, uplifting, and informative!"