Did you know 44 people, on the average, are intentionally killed every day and, sadly, 8 of them are children…not to mention all the victims of crimes who are not killed but hurt in many ways?
While there are many kinds of crimes…all created by someone's choice to harm others, let's look at just one kind: Human trafficking. Did you know that, according to the National Human Trafficking Hotline, human trafficking has increased 35.7 percent in the US in 2016? Whether the crime is human trafficking or any kind of crime in which innocent people are killed or severely injured, these tragedies cause *our* world to become less safe due to the choices of a few evil doers.
Recently, after the latest tragedy, our president said: "We must unite to stop these terrorist attacks!" and our local LA Police Chief Charlie Beck said "The Public Must Help Keep LA and America Safe."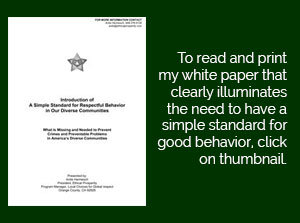 Given Public Safety is Everyone's Responsibility vs the other person's responsibility, imagine how empowered we good people can feel in our diverse communities across America from California to Colorado, Chicago and Connecticut; from Seattle to San Diego, from Maine to Miami, when we are united mentally while you and I and everyone continues onward with our own lives physically! That is what I offer as one component of my workshops on making respectful choices and decisions.
For information about the various workshops I conduct, first, click on the most appropriate tab under the 'Workshops & Webinars' tab; then, call me to discuss how I can help you help others to prevent crimes.
For groups who have a complete training program that teaches life skills, the core components of this process can be added as a supplement to any process you teach to your group to prevent abuse so people can be united mentally across groups, diverse communities, and companies. We look forward to you joining our mentally-united team! To learn how, call 949-378-4126 or send me an email.